We've got baseball on the brain here in Pittsburgh.  Which is a good thing because our beloved football team has not had a good start to the season.  The temperatures for the past weeks have stayed unseasonably warm and the baseball season has continued.  The Pittsburgh Pirates, who haven't made it to the playoffs since 1992 are tied with the St. Louis Cardinals in the National League Championship series.
So for anyone looking to read up on the Pirates baseball team here are three blogs that are dedicated to Pittsburgh Pirates baseball.  Please take a moment to vote for your favorites.
Oct 07, 2013 – bloglocal.net –

29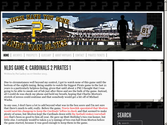 This blog is about Pittsburgh Pirates, MLB, Baseball, Pirates, bucs Description: Blogging about the Pittsburgh Pirates for seven years and counting. Social Networkswatch full movie Dunkirk 2017 online
Oct 07, 2013 – bloglocal.net –

29
To inform, entertain, and provide an online home for Pittsburgh Pirates fans Social Networks
Oct 07, 2013 – bloglocal.net –

27

Pirates Prospects is the best source for news and information on the Pittsburgh Pirates minor league system. Social Networks
If your looking for more blogs about baseball in general – check out this post that my friend Tim, a die hard Pirates fan, wrote for IheartPGH earlier this year.
Are there other Pirates blogs that should be included in this list?  Let us know by leaving a link in the comments below.
Related articles